March 2, 2022
1:00 PM – 2:00 PM ET
Data br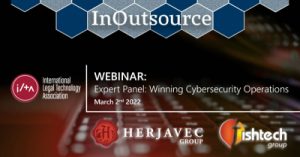 eaches and cybersecurity threats are at an all-time high, forcing law firms to re-evaluate and refine their approach to security operations and risk management. With resources strained, and cybersecurity talent increasingly difficult to recruit, many firms are looking for new ways to meet their professional and operational obligations. Taking advantage of unique capabilities, including 24/7 support, several firms are now enthusiastically adopting a managed services model, collaborating closely with seasoned partners.
At this webinar, experts from InOutsource, Herjavec Group, & Fishtech Group will discuss how they work with law firms to take full advantage of their existing, in-house technology and Teams while expanding their operational capabilities and reducing risk — so they can worry less about ransomware, hacking, data leakage, and compliance, and focus more on client services and growth.
Click here for full details and to register!