The Buzz Newsletter (August 2023)
A Note from Nancy & Eric

We're looking forward to connecting with many of you shortly at ILTACON in Florida.
The key areas we've focused our product and services teams on in 2023 continue to resonate with firms: IT Strategy & Software Success, Information & Insight, Risk & Compliance, Cost & Expense Management, and Firm Growth & Business Development.
If you'd like to schedule time to speak live about any of these topics at ILTACON please feel free to reach out. Or, if you won't be attending but would still like to catch up — please feel free to contact us to schedule time.
In the meantime, I'm pleased to share the new resources below, which highlight our work and general developments in areas including: Business Development/Analytics, Intapp, IG/Risk Consulting, and More.
As you make plans for the remainder of 2023 and into 2024, our (growing) team of technologists, business analysts, attorneys, and project managers stands ready to assist you and your firm in defining and executing projects on time and on budget.
With warmest regards,
 Nancy Beauchemin
President and Founder
 Eric Mosca
Director of Operations
CASE STUDY: Fisher Philips on Accelerating Business Development with New Case Filing Intelligence
To stay on top of relevant case filings, attorneys at Fisher Phillips routinely requested alerts from the firm library team, enabling them to reach out to clients to offer their support and uncover new business opportunities.
Learn how they worked with InOutsource to implement a state-of-the-art alert system that earned top marks from the lawyers and hard ROI for the business.
A Regional Managing Partner noted: "In the first two months (NCFI) helped me win a significant amount of new business… We never would have had those opportunities without the new case filing alert system."
Read more from Evan Shenkman, Chief Knowledge and Innovation Officer, and Jennifer Mendez, Senior Director of Knowledge Management Innovation, as they share their firm's success story.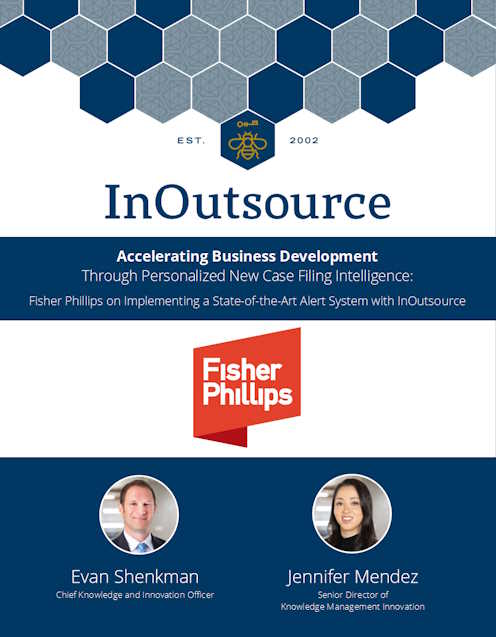 VIDEO: Getting Started (or Getting Serious) with Software-driven OCG and Terms Management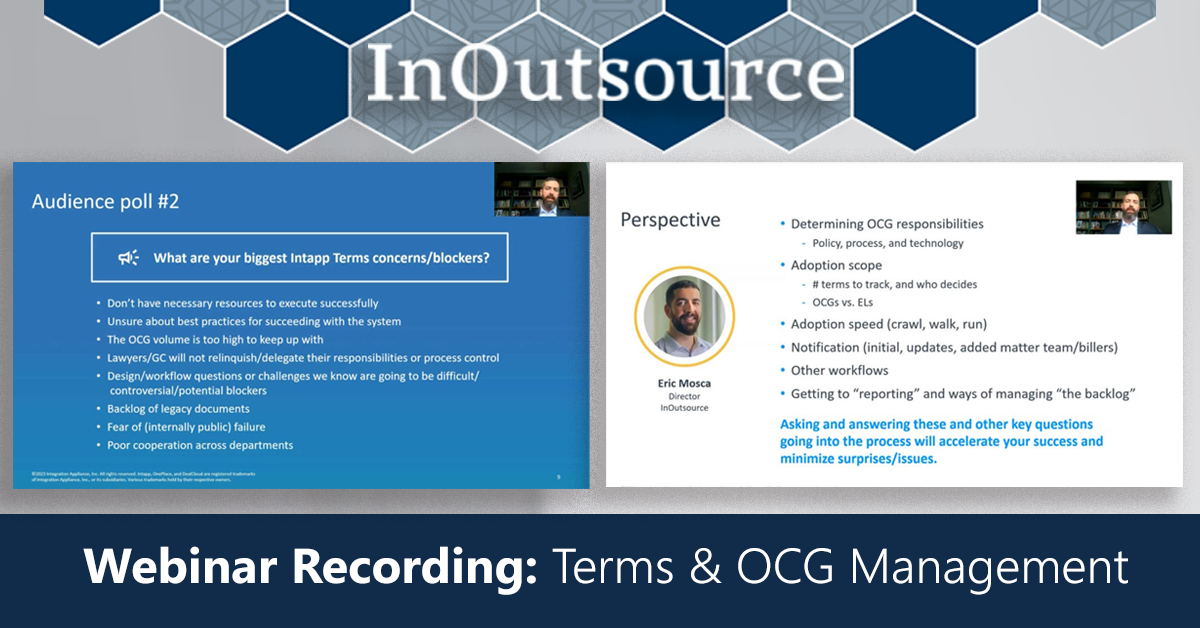 "In the future, we expect fewer client Outside Counsel Guidelines," said no law firm ever.
That's why organizations continue to adopt Intapp Terms to support their long-term success. It enables firms to effectively catalog, analyze and comply with client mandates at scale.
However, choosing the right software is just one input necessary for lasting success — best practices and prudent policies are also crucial. It's not uncommon for some firms to face challenges navigating the shift from legacy processes to more modern outside counsel guideline (OCG) management.
In this webinar co-hosted with Intapp, InOutsource experts shared our experiences, advice, recommendations, and tips for navigating your terms journey — no matter what stage your firm is at.
Whether you've licensed Intapp Terms and are struggling to get started, are in production and looking to take your practices to the next level, or are just starting to think about a software investment, this session is for you. Bring your stories, bring your questions, bring your ideas.
Discussion topics included:
Strategies for getting started: How prudent planning, expert assessment, and practice polices can put you in the best starting position
Stories of scaling: How firms are using Terms to effectively centralize and streamline OCG management
Harnessing new horizons: Achieving active compliance across time and billing activity, delving into data and analytics, new features and emerging opportunities
RESOURCE: InOutsource Terms & OCG Consulting Services Overview
Whether you've licensed Intapp Terms and are struggling to get started, are in production and looking to take your practices to the next level, or are just starting to think about an investment to modernize your software and risk processes, we can help:
Set Strategy — Assessment, advisory, planning, and policy creation services
Advocate for Investment — Making the internal case for investment in new technology and staff
Scale Operations — Using Terms to effectively centralize and streamline compliance
Pursue New Horizons — Leveraging AI automation, integrating time and billing compliance, delving into data and analytics, and more
Risk Management Resources
RISK STAFFING SURVEY: Results from Our Recent Poll
In our April 2023 Risk Round Table webinar, a panel of law firm risk leaders shared their experience and led a group discussion exploring risk staff recruitment, retention and development.
With responses gathered from the 100+ webinar attendees, our event survey surfaces some key data points around staffing practices and challenges:
How do you provide training to new risk staff?
On average, how long does it take to fully train a new risk hire?
What methods do you use to motivate and retain risk staff?
What types of services is your risk team providing to your internal clients?
RISK VIDEO INSIGHTS: Perspectives from Our Team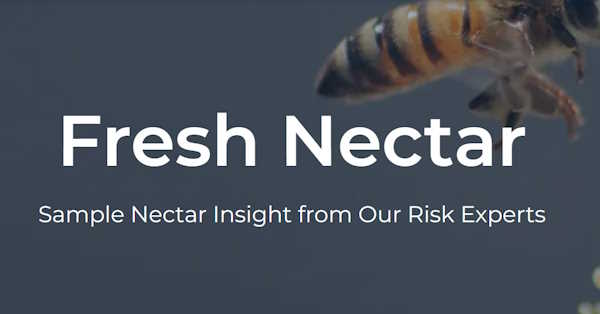 Recently, several new firms have adopted Nectar, our online Learning Management System (LMS) that supports risk staff training and development, with centralized, standardized learning tools and information. Through this system, we offer adaptable coursework including extensive conflicts and compliance education, IG, and broader context on law firm operations and fundamentals.
We supplement the 100+ lessons in Nectar with regular video commentary and thought from our expert team. We create these short snapshots often in response to questions from our clients.
Here's a small sample of what we call Fresh Nectar, below you can watch 2-3 minute videos on:
The Most Important Way to Improve Risk Posture
Critical aspects of successful risk technology/process projects
Tips for Getting "Professionals" to Support Critical Risk Policies & Processes
Understanding the IG "Big Picture"
Strategies for Establishing Strong IG Practices
The Most Important Consideration for Boxed Data Entry
PARTNER SPOTLIGHT: IG Innovation, Experts in Discussion
This ILTA Masterclass featured Chris Giles (LegalRM) and Christopher L. Hockey, Ed.D., IGP (Bond, Schoeneck & King PLLC) discusion why it takes a community within a law firm to develop and maintain an effective information governance strategy.
Chris Hockey outlined how he successfully employed this approach as IG Director at his firm. And both speakers explored best practices for fostering cross-functional collaboration and communication, such as creating a shared understanding of information governance goals and priorities, establishing clear roles and responsibilities, and leveraging technology solutions to streamline processes and promote transparency.
PARTNER SPOTLIGHT: IG Perspective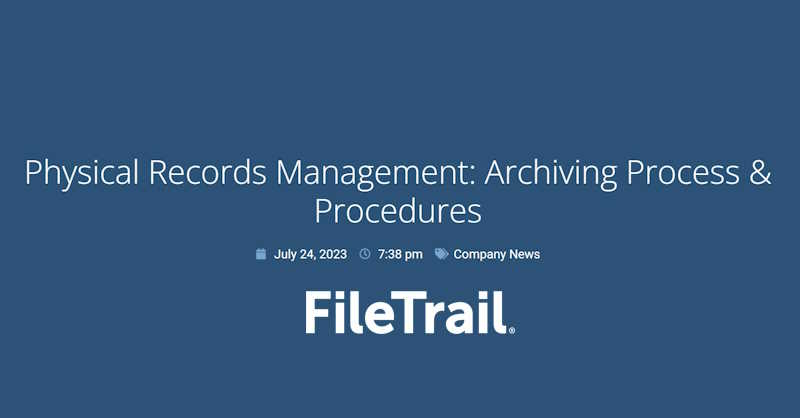 In today's digital era, the significance of physical records archiving may seem diminished. However, many organizations still rely on physical documents for various reasons, such as legal requirements, historical preservation or the need for physical signatures. Efficiently managing and archiving physical records are crucial to ensure easy retrieval, regulatory compliance and optimal space utilization.
In this blog post, FileTrai explores the processes, procedures and best practices involved in archiving physical records.
COORDINATING CONNECTIONS: InOutsource Insight on Executing Law Firm Mergers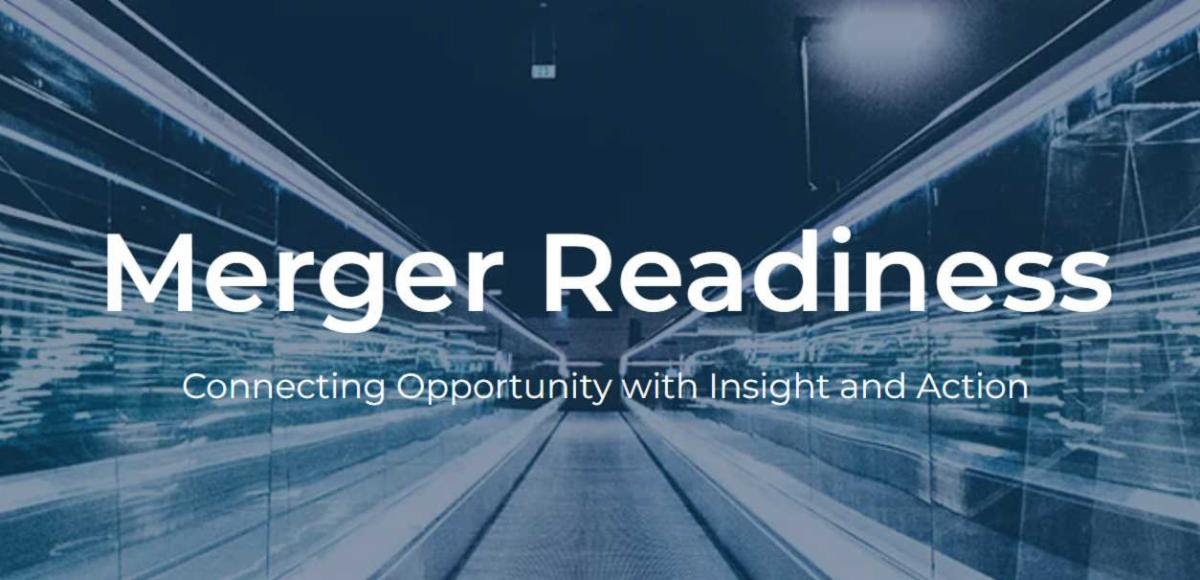 Law firm mergers (and merger discussions) are making headlines in 2023:

Whether your law firm is pursuing a combination of equals, or the acquisition of a smaller organization, mergers bring tremendous potential opportunity, but also significant risks and challenges to navigate.
InOutsource can help — before, during, and well after your merger officially closes. Our services include pre-merger planning, post-merger integration (IT, conflicts, data governance, vendor management), and more. 
OUR GROWING TEAM: InOutsource Staff Milestones & Success
Since our last update, we've been excited to add several new faces to the InOutsource team, including: Lori Rosencrans (Project Manager), Lauren Boyle (Solutions Engineer), and Blair Collins (Systems Integration Specialist).
We're also excited to welcome industry veteran Jon King to InOutsource in new role focused on growth and client experience.
Many will know Jon from his past roles in #legaltech sales and support. That 15+ year foundation, combined with his extensive industry relationships and deep technology understanding, puts him in a great position to lead our efforts growing the scope of value and service we deliver.
To start, he'll be exploring interesting opportunities in #analytics, #intapp, and #collaboration. As always, as we continue to invest in growth, our top priority is growing the success of our clients. Welcome, Jon!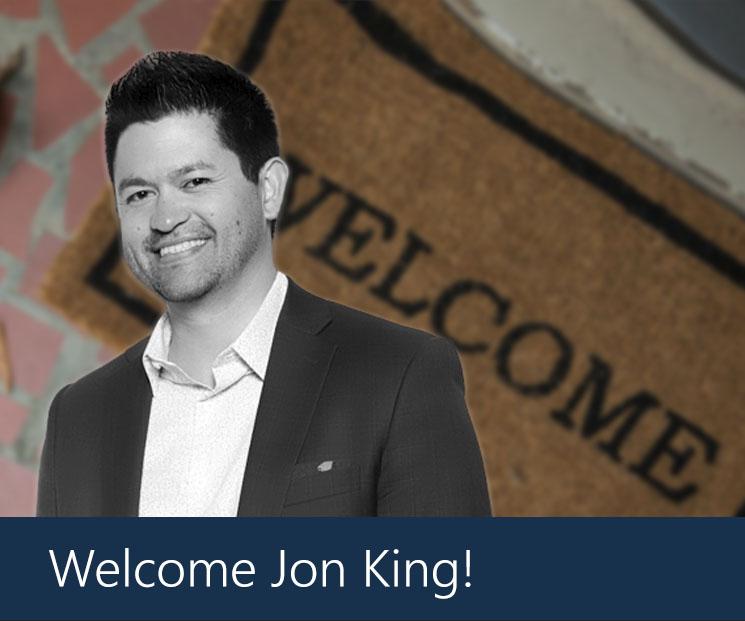 At InOutsource, we strive to create a place where people work, grow, and thrive. And we continue to invest in growing our team. If you know someone who might thrive at InOutsource, please have a look at our careers page:
Beeswax (Industry Insight)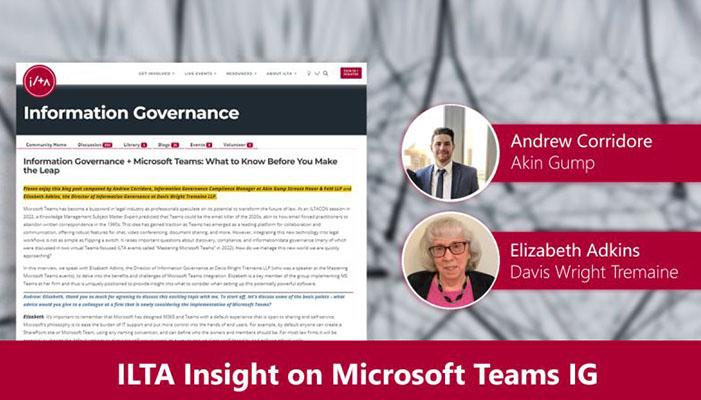 Information Governance + Microsoft Teams: What to Know Before You Make the Leap
An excellent article on what every firm needs to know before jumping into Microsoft Teams with both feet, from an Information Governance point of view. Insights from Elizabeth Adkins, Davis Wright Tremaine LLP, and Andrew Corridore, CIP, Akin Gump Strauss Hauer & Feld LLP in this ILTA blog post.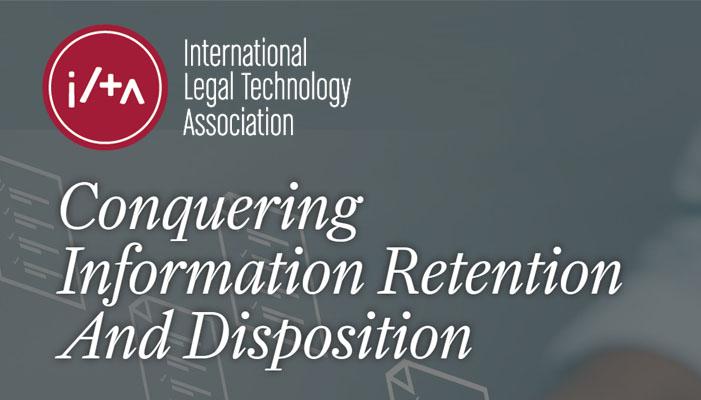 Law firm best practices: Archiving within Microsoft Teams
Law firms often find the scale and effort to map, classify and minimize vast volumes of content overwhelming so LegalRM's Chris Giles has penned an article for International Legal Technology Association (ILTA) P2P where he walks through 5 steps that are helping firms conquer their information retention and disposition requirements.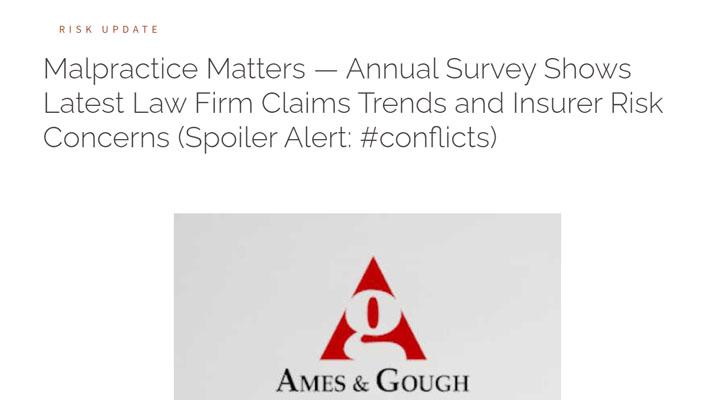 Malpractice Matters — Annual Survey Shows Latest Law Firm Claims Trends and Insurer Risk Concerns
Law firms throughout the U.S. continue to face escalating malpractice risks as economic conditions, attorney migration and emerging exposures trigger new lawsuits and social inflation drives up claim costs, according to a new study by insurance broker Ames & Gough.
Read key highlights about claims, conflicts issues and high-risk practice areas.
We love to stay connected with our clients and partners. To stay up to date on the latest news and insights from InOutsource, follow us on LinkedIn and Twitter. And subscribe to receive "The Buzz" right in your inbox.
---
Get Another "Buzz" (Subscribe for Updates) :