The Buzz Newsletter (November 2023)
A Note from Nancy & Eric

As year end approaches, we're using this update to present a "Year in Review." We're highlight several of the client stories, team insights, and resources we've published during the past twelve months.
These topics continue to see strong firm interest and investment in. It makes sense, given that so many of these challenges — IG, Intapp, BI, KM, security and more — remain critical priorities for numerous firms.
Now is the season when many firms are planning for 2024 and beyond. As you set priorities for investments in change and innovation, our team of technologists, business analysts, attorneys, and project managers stands ready to assist you and your firm define and execute projects on time and on budget.
Our team focus on these key themes continues:  IT Strategy & Software Success, Information & Insight, Risk & Compliance, Cost & Expense Management, and Firm Growth & Business Development.
If you'd like to discuss any of these topics further, you should always feel free to reach out — either to us directly, to your account manager, or via our website
We continue to expand our team to meet growing client demand. This year, we've grown practice headcount by 20% and will be announcing some exciting new additions to the team in the coming weeks. 
As always, as we continue to invest in growth, our top priority is growing the success of our clients. We value the long-term relationships we've built with so many of you, and look forward to strong and successful collaboration in 2024.With warmest regards,
 Nancy Beauchemin
President and Founder
 Eric Mosca
Director of Operations
CASE STUDY: Fisher Philips on Accelerating Business Development with New Case Filing Intelligence
To stay on top of relevant case filings, attorneys at Fisher Phillips routinely requested alerts from the firm library team, enabling them to reach out to clients to offer their support and uncover new business opportunities.
Learn how they worked with InOutsource to implement a state-of-the-art alert system that earned top marks from the lawyers and hard ROI for the business.
A Regional Managing Partner noted: "In the first two months (NCFI) helped me win a significant amount of new business… We never would have had those opportunities without the new case filing alert system."
Read more from Evan Shenkman, Chief Knowledge and Innovation Officer, and Jennifer Mendez, Senior Director of Knowledge Management Innovation, as they share their firm's success story.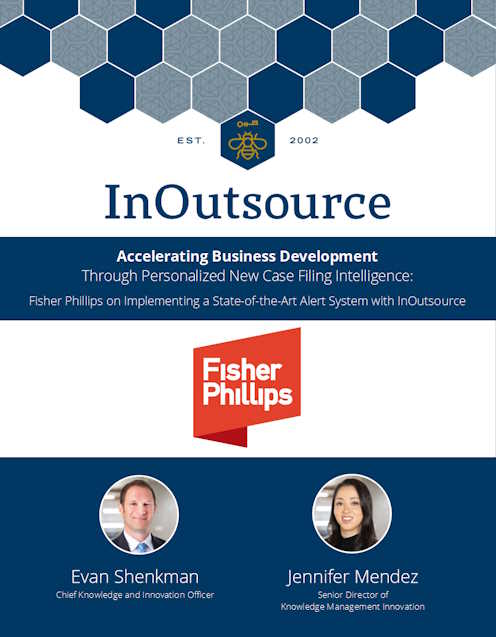 EMERGING OPPORTUNITIES: New Case Filing Intelligence Enables Lawyers to be "Activators"
The industry is abuzz with groundbreaking research on law firm business development insights. Research just published in the Harvard Business Review highlights the performance of 'Activators' — lawyers who prioritize active client outreach, networking, and engagement, combined with strong peer collaboration across their firms.
 The article notes that modern technology such as CRM, experience management, and other tools can create new opportunities to pursue new relationships and new business by delivering fresh value to clients — before they even reach "the RFP" stage — we agree!
Our New Case Filing Intelligence (NCFI) solution aligns perfectly with these principles — as illustrated perfectly by the Fisher Philips case study. So read the research and reach out to explore how we can help accelerate efforts at your firm!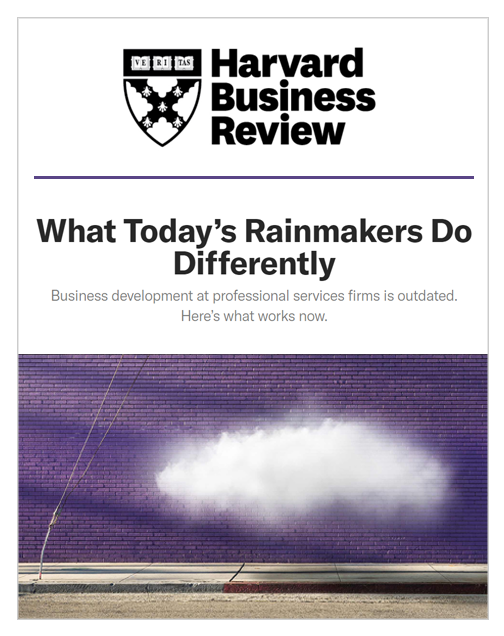 CASE STUDY: Husch Blackwell on Elevating IG
As part of a broad IG strategy that has included consolidation of offsite storage for 23 offices under a single vendor and the adoption of modern records management software, Husch Blackwell has turned to InOutsource to support several strategic initiatives.
In this case study, Jordan McKee, Associate Director of Information Governance, highlights our joint efforts to address technical issues including data cleansing, data de-duplication, and consolidation of transaction history.
And she describes the steps that Husch Blackwell went through to consolidate its physical records data to reduce costs and risks, improve productivity, and elevate the role of the Information Governance within the firm.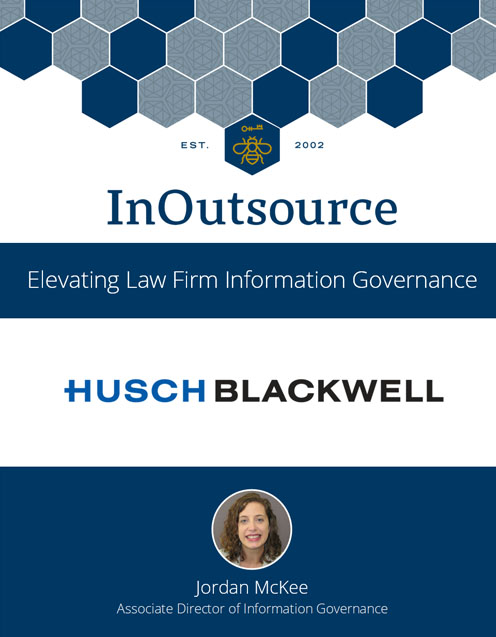 CASE STUDY: Goulston & Storrs + Audit Letter Workflow
Goulston & Storrs knew it needed a better way to handle client audit response letters. 
Having adopted Intapp for cloud-based new business intake and conflicts management, the firm knew that it already had a technology platform in place that could be extended to meet this new opportunity. 
InOutsource connected the people, process and software to implement a tailored solution delivering stellar results. Read the complete case study to hear the firm's story in their own words.
ARTICLE: Why More Software Options are Good News for Law Firms and Means Better Information Governance
InOutsource founder and president Nancy Beauchemin explores why law firms are taking a hard look at retention of electronic information, and why InOutsource has expanded the IG/RM software partners we work with.
Law firms who have worked with InOutsource since the early days know that we have always put your needs first. In consulting engagements, we try to make the best assessment possible of your unique needs and help you find the software that will work best in your environment.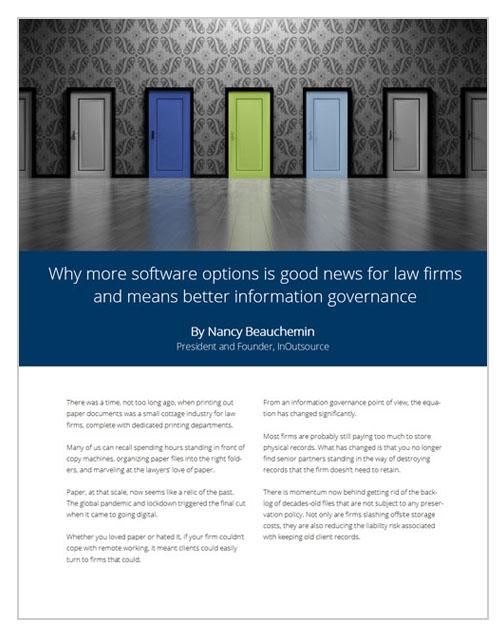 PERSPECTIVE: Interview with an Intapp Cloud Migration Expert 
For firms seeking advice on migrating existing systems or implementing new Intapp solutions in the cloud, Eric Mosca of InOutsource shares his strategic insight along with practical guidance.
As one of the first Intapp services partners to implement Intapp Cloud solutions, InOutsource is uniquely positioned to advise on key considerations and best practices for a smooth transition, so your firm can maximize the benefits of the Intapp Cloud.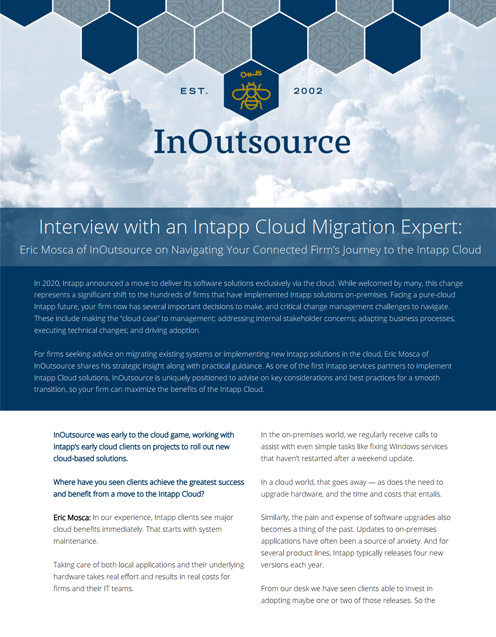 Our joint webinar with Intapp saw record interest and turnout. In this webinar InOutsource experts shared our experiences, advice and recommendations for navigating your terms journey — no matter what stage your firm is at.
Whether you've licensed Intapp Terms and are struggling to get started, are in production and looking to take your practices to the next level, or are just starting to think about a software investment, this session has something for every risk professional.
And if you're looking for more help, we offer a broad range of support — not just with software, across policy, process and change management:
Risk Management Resources
RISK VIDEO INSIGHTS: Perspectives from Our Team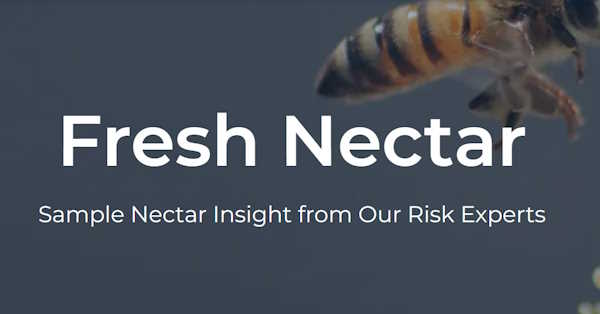 Recently, several new firms have adopted Nectar, our online Learning Management System (LMS) that supports risk staff training and development, with centralized, standardized learning tools and information. Through this system, we offer adaptable coursework including extensive conflicts and compliance education, IG, and broader context on law firm operations and fundamentals.
We supplement the 100+ lessons in Nectar with regular video commentary and thought from our expert team. We create these short snapshots often in response to questions from our clients.
Here's a small sample of what we call Fresh Nectar, below you can watch 2-3 minute videos on:
The Most Important Way to Improve Risk Posture
Critical aspects of successful risk technology/process projects
Tips for Getting "Professionals" to Support Critical Risk Policies & Processes
Understanding the IG "Big Picture"
Strategies for Establishing Strong IG Practices
The Most Important Consideration for Boxed Data Entry
RISK INVESTMENT: Incident Response Retainer Services from Cyderes
In our discussion with law firms, we consistently see security issues commanding significant attention. And a consistent theme we've heard is that organizations want relationships with multiple security consultants, to gain access to a variety of perspectives, advice and technical resources.
To help connect our clients with the best resources, we've partnered with Cyderes. Security experts.
For firms looking to prudently prepare for "worst case" secnarios, Cyderes now offers 24x7x365 service to retainer clients.
A retainer comes with an SLA and a Cyderes team with experienced responders and investigators. Services include investigation, response, containment, and preparation for potential litigation and reporting requirements.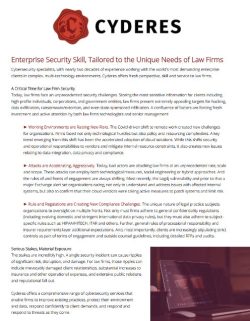 CLIENT SUCCESS: InOutsource Staff Milestones & Success
Staying close to our clients is critical to our team. We regularly ask for feedback — particularly at project conclusion,
So when you receive a survey from InOutsource, please take it! These are reviewed not only by your project team, but also by senior management.
To the many clients who have provided constructive feedback and kind encouragement — THANK YOU!
You can read what some of your peers have to to say about us in their own words here: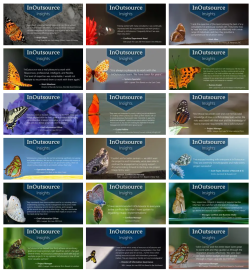 Beeswax (Industry Insight)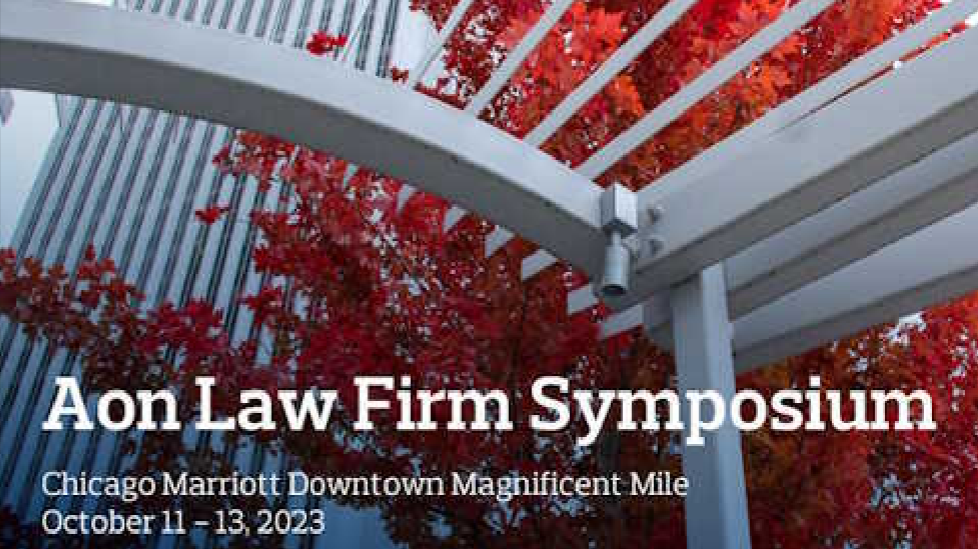 Risk Resources from Recent Risk Conference
AON shared extensive set of speaking slides, materials, and references from their recent conference. Great materials covering:
New Business Intake (and Outtake)
Client Risk
Lateral Hiring
Personnel and Partner Risk
International/UK Practice
Law Firm General Counsels Discussion
Insurance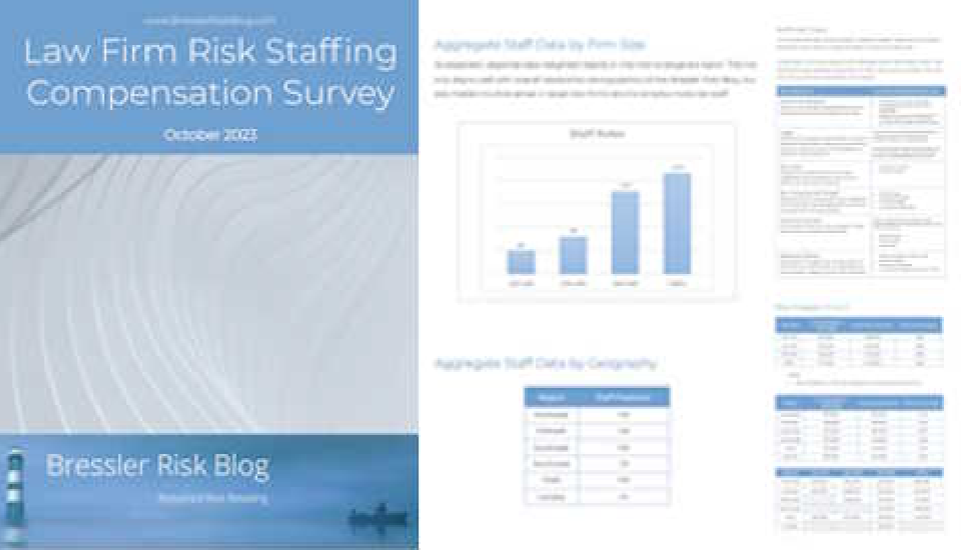 2023 Law Firm Risk Staffing Compensation Survey Report
Freshly published, the report analyzes data from 126 participants sharing data on 517 risk positions. Risk and operational leaders are using this data to advocate for and ensure that their teams' compensation is kept in line with industry averages. HR and hiring managers are using this data to inform their staff recruiting and review policies. Individual contributors are using this data to self benchmark and support their personal career efforts and growth.
ILTA Insights on Information Governance: Case Study & Perspective
Two IG experts share advice on approaches for embedding IG practices more effectively. This article includes a law firm case study.
Topics include: policy & process, controls & culture, and tools & technology
More Resources & Updates:
We love to stay connected with our clients and partners. To stay up to date on the latest news and insights from InOutsource, follow us on LinkedIn and Twitter. And subscribe to receive "The Buzz" right in your inbox.
---
Get Another "Buzz" (Subscribe for Updates) :