The Buzz Newsletter (December 2021)
A Note from Nancy

As year-end nears, and we look to 2022 with a sense of optimism and opportunity, I would like to thank our clients, colleagues and partners for their support and collaboration throughout 2021.
With corners being turned, many firms continue to plan fresh investments in 2022, with initiatives designed to bolster resilience, improve efficiency and mitigate risk. These include adopting cloud software solutions, re-evaluating security hygiene, improving staff development and retention, and enhancing business analytics.
All of these are areas where my team offers unique skill, perspective and capability. As you make plans for 2022 and beyond, we welcome the opportunity to connect and collaborate.
With warmest regards,
— Nancy Beauchemin (She/Her) 
President and Founder
Risk Renewed — New Training Resource
Introducing Nectar: Risk E-Learning from InOutsource
Nectar, our online Learning Management System (LMS), accelerates risk staff training and development, with centralized, standardized learning tools and information that can be mapped to your firm's specific needs.
Coursework includes extensive conflicts and compliance education, as well as broader context on law firm operations and fundamentals.
Nectar's online resources include personalized learning materials, configurable learning plans and syllabi, testing and evaluation tools, and progress tracking and reporting.
VIDEO: Lateral Intake — Shearman & Sterling Innovation in the Spotlight
At Intapp's recent Connect21 user conference, Shearman & Sterling's Meredith Williams-Range (Chief Knowledge and Value Officer) and Judy Berman (Director, Global New Business Intake and Information Management) described the innovative work they're doing to enhance the lateral partner onboarding lifecycle.
Their engaging panel discussion explored tools and approaches for improving the speed and efficiency of conflicts clearance, partner review, and client and matter onboarding, resulting in a positive experience for incoming partners and their clients:
Click to Watch the Panel Video
We have worked with several firms to enhance lateral intake. And we're pleased to have played a part in Shearman's risk success, which we previously highlighted in a case study:
Serious Security — A New Partnership
LAW FIRM INFORMATION SECURITY: InOutsource Partners with Herjavec Group Expanding Security Relationships and Resources
In our discussion with law firms, we consistently see security issues commanding significant attention. And a consistent theme we've heard is that organizations want relationships with multiple security consultants, to gain access to a variety of perspectives, advice and technical resources.
To help connect our clients with the best resources, we have recently formed a partnership with The Herjavec Group. Security experts, this team has worked with several firms in areas including:
Assessment, capacity, strategic planning, advisory/consulting activities
Responding to client RFPs and audits
Breach and incident response
Compliance pursuit/certification
Supplementing in-house security staff
Information Governance — ILTA Insight
2021 ILTA TECH SURVEY: ON INFORMATION GOVERNANCE — Firms' Increasing, Urgent Focus on IG
via ILTA's published Executive Summary:
"Every CIO we've talked with in the last year has listed IG as the top issue keeping them up at night. It's the hidden time bomb in WFH and hybrid work models. There are so many traps and sinkholes looming.
"The impact is greater for large firms with cross-border issues, multi and varied jurisdictions. They are worried about what is in the homes of their users that may have never made it on a 'To-Be-Returned to XYZ law firm' list. They worry about how much firm email is now in private Gmail accounts, on removable media, being printed in homes and not destroyed according to their records policy. Kids are playing games on firm-owned computers, often being given laptop passwords in order to play those games.
"The biggest concern is being asked to produce something that the firm has no knowledge of because it was created in a lawyer's home and is not in the records controlled by the law firm. There is a hope that they have brought this under control.
Not surprisingly, the survey shows that firms are increasingly putting measures and strategies in place for the governance of electronic records policies and procedures. This year the number of firms responding positively to this move increased to almost 50%."
As ILTA CEO Joy Heath Rush notes, when it comes to IG: "…vertical industry knowledge, understanding of culture, and deep appreciation of ethical norms and requirements are essential."
We could not agree more. If you share these concerns, please feel free reach out to talk to us about your IG challenges and objectives
Intapp — News & Resources
PERSPECTIVE: Interview with an Intapp Cloud Migration Expert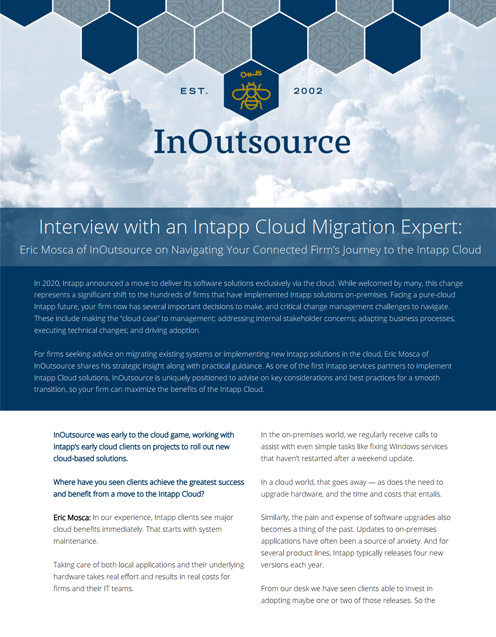 For firms seeking advice on migrating existing systems or implementing new Intapp solutions in the cloud, Eric Mosca of InOutsource shares his strategic insight along with practical guidance.
As one of the first Intapp services partners to implement Intapp Cloud solutions, InOutsource is uniquely positioned to advise on key considerations and best practices for a smooth transition, so your firm can maximize the benefits of the Intapp Cloud.
INTAPP IN DETAIL: Getting More From Your Intapp Investments
Areas we often address include:
New product introduction (Intapp Terms is an area of growing client interest)
Custom solution development (e.g. workflows like audit or engagement letters)
Upgrades & Integrations (including cloud migrations)
Training (administrator as well as "power user" courses and sessions)
Reporting (efficiency, business insight, and productivity metrics)
Beeswax (Industry Insight)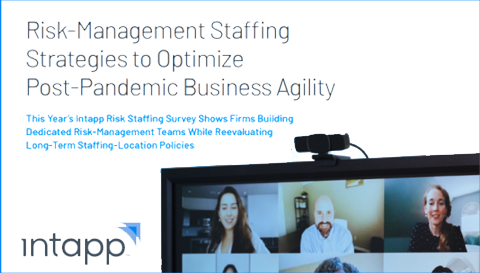 2021 Intapp Risk Staffing Survey Report
Law firm risk management continues to increase in complexity. A centralized risk management function can help firms achieve a consistent and scalable global application of risk policies and processes. But firms have taken a piecemeal approach to how they handle the various types of risk management activities. Topics include:
Pandemic-driven impacts on risk-management activities and staffing
Increased range of dedicated risk-management staffs
Ongoing risk-management challenges
Key risk-management staffing and business-agility metrics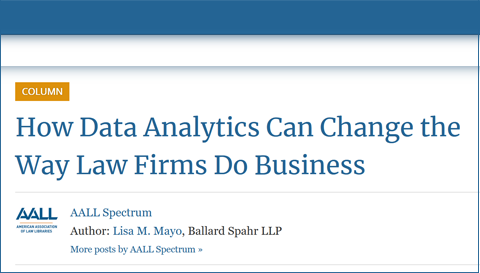 Lisa Mayo on the Impact of Analytics:

"Our core function has evolved into so much more though than simply building dashboards. We are laser focused on a data literacy initiative to ensure our users can get actionable insights from their dashboards and have the data needed to make strategic decisions. We have concentrated our efforts on ongoing education for our users and clients, with forward-thinking capabilities…
"This is truly transformational work, but as I hope this article has made clear, we as data professionals need to include other groups and departments in our data maturity journey."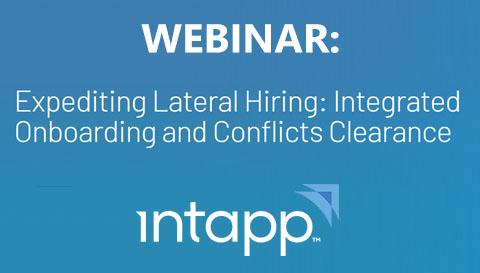 This session will highlight Intapp Intake and Intapp Conflicts new lateral hiring and onboarding features:
Lateral Submission — Let lateral candidates submit their history and verification information and documents securely
AI-Assisted Conflicts Clearance — Streamline the onboarding team's review of the AI-categorized search results to clear or resolve potential conflicts of interest
Sponsor and HR Review — Help the firm sponsor or HR and recruiting professionals review the candidate and clearance information using an interactive workflow
New Business Intake — Pre-populate new business intake forms with cleared portable client and matter details integrated with the FMS
We love to stay connected with our clients and partners. To stay up to date on the latest news and insights from InOutsource, follow us on LinkedIn and Twitter. And subscribe to receive "The Buzz" right in your inbox.
---
Get Another "Buzz" (Subscribe for Updates) :