The Buzz Newsletter (May 2020)
A Note from Nancy

Over the past several weeks, I've been speaking regularly with information governance leaders — to better understand the issues they're facing, and the specific measures they're taking to cope with the current crisis. While there is tremendous pressure facing IG and records teams, there are also success stories to be told, and response strategies that we can all learn from.
I'd encourage you to download an article I've written, sharing those stories and strategies, and my own perspective on navigating the unprecedented landscape we face.
In this update you'll also find several relevant resources and pointers on critical topics facing firms these days, including cost management, business development and more.
And as always, if any of these topics strike a chord, I encourage you to reach out.
With warmest regards,
— Nancy Beauchemin, President and Founder
Nectar (News, Views and Elephants...)
The IG Elephant in the Room: Protecting Your Team and Your Firm in the Age of Covid-19
In this article, InOutsource President Nancy Beauchemin shares real-world examples of how firms are navigating the evolving technical and business challenges posed by the current crisis.
She also provides insights into how IG and records management teams can prepare for the challenges that lie ahead.
Topics include: staff organization, cost and vendor management, disposition trends, lawyer engagement and more.
Cost Control is Critical: The Reckoning: A Strategic Approach to Cost Containment in Retention
Today, cost control is critical. Facing significant economic pressure, is your firm doing everything it can to control soaring records storage costs?
In this article, John Zahradnick describes a multi-pronged approach to cost containment in records management and retention, based on lessons learned and strategies we've developed by working with a diverse set of clients.
There are recommendations organizations can implement on their own.
(But if you're looking for help addressing you own training strategy, program and resources, we're ready to help.)
ARTICLE: Reducing Risk in 2020: Don't Overlook Training For Conflicts Of Interest
(By Eric Mosca, Published by ABA Law Practice Today)
Looking to help your firm reduce risk, speed business intake and improve lawyer productivity in 2020? Consider making conflicts training a New Year's Resolution.
A renewed commitment to internal education can help protect firms, improve staff efficiency (and retention) and deliver several additional dividends.
For more detail, advice and inspiration, read Eric Mosca's article: "Don't Overlook Training for Conflicts of Interest," originally published by the ABA in Law Practice Today. (And if you're looking for help addressing you own training strategy, program and resources, we're ready to help.)
Client Perspectives: InOutsource Earns Top Marks in Broad Client Survey
At InOutsource, we pride ourselves on delivering great results for our clients. That's why we regularly survey firms to understand their feedback on the specific projects we've executed and their general perspectives on us as a partner.
We're pleased to share highlights from InOutsource client surveys conducted over the past two years — how our clients rated us in specific areas and what they said about our performance:
Bumble (Upcoming Webinar)
ROUND TABLE: Navigating Today's Pressing Risk Challenges
May 28th (1 pm Eastern)
Many firms are facing similar issues during these challenging times and we wanted to encourage and foster peer connection across the risk community. We are pleased to invite all of our clients and colleagues to attend this virtual round table.
Topics will include:
Strategies and approaches for organizing risk staff, including division of roles and responsibilities
Managing remote working challenges, with a focus on the risk team experience, demands and challenges
Stepping up client quality research
Swarm (Developing Business)
WEBINAR RECORDING: Empower Your Firm to Develop New Business.
A Fresh Approach New Case Filing Intelligence
In these uncertain times, timely information can provide a critical advantage in pitching for new business and delivering successful outcomes. Armed with timely information about case filings, firms can alert and proactively pitch services to clients and prospects — particularly in those "ahead of service of process" situations where clients aren't even aware that they're subject to new legal action.
A new, innovative solution from InOutsource, built on a modern data analytics platform, enables intelligence-driven business development, creating new opportunities for law firms to win new business.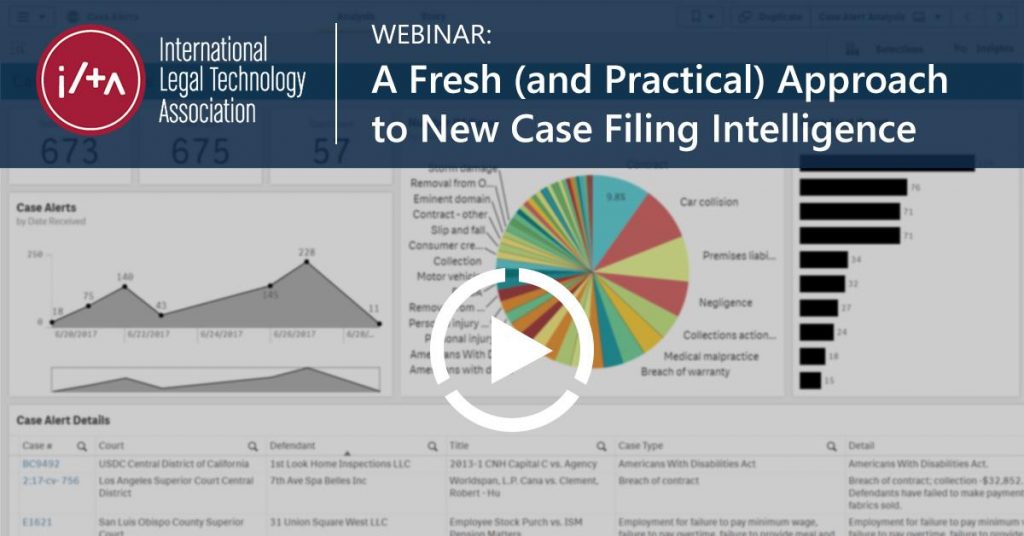 We recently were invited by ILTA to present a webinar on the solution. (It was quite popular.) If you missed it and would like to see the recording, just get in touch:
Beeswax (Industry Insight)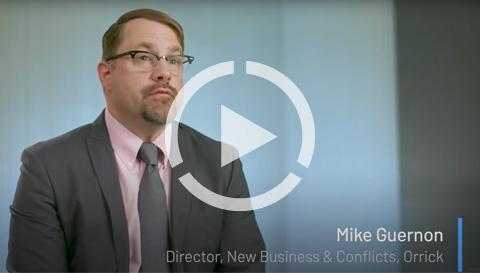 Lateral hire intake presents a unique set of challenges as teams must act quickly (sometimes with incomplete information) to flag, escalate and resolve issues.
Intapp's case study video featuring Mike Guernon explores how data and workflow can be optimized to make that processes more efficient and effective.
This is an area we have strong experience in, spanning policy, process and workflow/data integration. So if lateral on boarding is a current challenge your firm is looking to tackle:
Covid-19 & Law Firm Risk Management:
Overview of Key Insights from Industry Risk Experts
To keep up to date on all things risk, we keep a close eye on the Bressler Risk Blog, Here are several relevant stories and updates exploring the implications of the unfolding coronavirus crisis:
A closer look at the Records Management section of ILTA's 2019 Technology Survey
An impressive 537 law firms responded to ILTA's 2019 Technology Survey — up 25% from the number of firms responding the previous. This article focuses on key insights and highlights.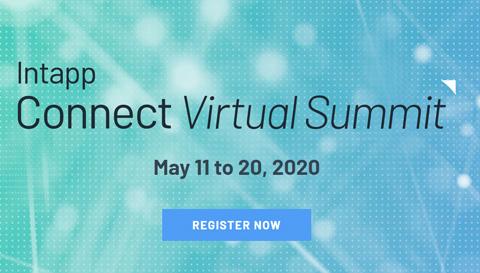 Intapp Connect Virtual Summit:
Rescheduling its New York in-person event, Intapp is producing a virtual, free conference for customers, offering leadership presentations (May 11 – 20), covering all elements of its professional services platform, Intapp OnePlace.
We love to stay connected with our clients and partners. To stay up to date on the latest news and insights from InOutsource, follow us on LinkedIn and Twitter. And subscribe to receive "The Buzz" right in your inbox.
---
Get Another "Buzz" (Subscribe for Updates) :