The Buzz Newsletter (April 2021)
A Note from Nancy

With Spring in full swing, we at InOutsource find ourselves active, engaged, and optimistic. It's clear that both the world at large and legal profession in particular are emerging from a turbulent, uncertain chapter with a renewed focus on adaptation and execution.
Of course, 2021 is still unfolding. As it does, law firms are increasing investments in efficiency and growth. Key priorities we're deeply involved in helping our clients address are "The Three C's" — Collaboration, Cloud Adoption, and Cost Control.
As you navigate your firm's journey, remember that our team of expert technologists, business analysts and (more important than ever in a remote world) diligent project managers is ready to assist you and your firm in defining and executing technology projects on time and on budget.
The resources below highlight areas where we're seeing strong interest, including: Intapp, IG/Risk Consulting, and Analytics Solutions. If these topics strike a chord, I encourage you to reach out.
With warmest regards,
— Nancy Beauchemin, President and Founder
Intapp — News & Resources
PERSPECTIVE: Interview with an Intapp Cloud Migration Expert
For firms seeking advice on migrating existing systems or implementing new Intapp solutions in the cloud, Eric Mosca of InOutsource shares his strategic insight along with practical guidance.
As one of the first Intapp services partners to implement Intapp Cloud solutions, InOutsource is uniquely positioned to advise on key considerations and best practices for a smooth transition, so your firm can maximize the benefits of the Intapp Cloud.
CASE STUDY & WEBINAR: Ballard Spahr: Automating Audit Letter Responses with Intapp
We continue to connect with firms interested in automating audit letter responses. If your firm is looking to ease the pain of this complex process in 2021, we're ready to support your success.
For more detail, see this case study highlighting how the InOutsource team worked with Ballard Spahr to implement audit letter response workflows using the firm's existing Intapp software.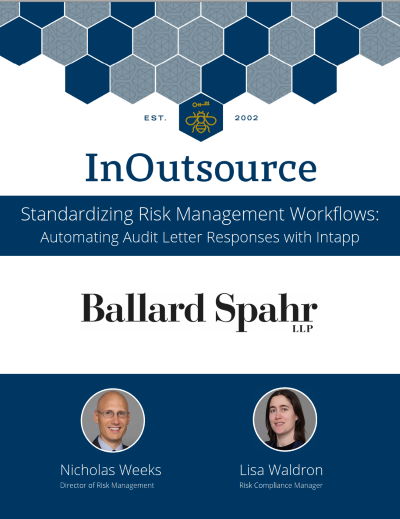 INTAPP IN DETAIL: Getting More From Your Intapp Investments: Innovation and Insight from InOutsource
If you're looking to get more out of your Intapp investments, we want to make sure you understand all the areas we can aid and accelerate your efforts. Summarized below, you can get even more detail on the linked page.
Areas we often address include:
New product introduction (Intapp Terms is an area of growing interest and investment)
Custom solution development (e.g. workflows like audit letters or engagement letters)
Upgrades & Integrations (including cloud migrations)
Training (administrator as well as "power user" courses and sessions)
Reporting (efficiency, business insight, productivity metrics and more)
Risk & IG — News and Resources
VIRTUAL EVENT: WEBINAR: Risk Round Table on New Business Intake
Connect with your risk peers: a safe space for open discussion
One of the key pieces of the business of a law firm is new business intake. Get it right and important downstream processes like timekeeping, billing, collections, and profit analysis will go smoothly. Get it wrong and not only will it jam up those gears but it also could expose the firm to ethical, financial, and reputational risks.
Conversation topic starters will include:
Latest "good (and bad) practices"
Creative workflow strategies to get better information from submitters, get better involvement from reviewers, while increasing workflow speed
"New" issues and consideration on radar (e.g. Marijuana businesses, Pricing, LPM, OCGs, etc.)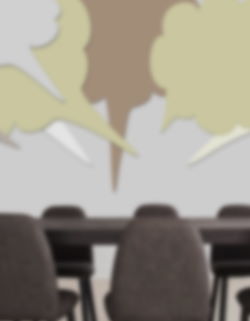 EDUCATION: Conflicts Insight: Managing Bankruptcy Conflicts
InOutsource's Max Welsh on navigating a critical, complex and common risk scenario:
"As I create educational content for an online learning management system which InOutsource is developing for law firm risk and conflicts staff, I thought I'd take a moment to share my thoughts on one of the most complicated conflicts conundrums firms frequently face: managing bankruptcy conflicts."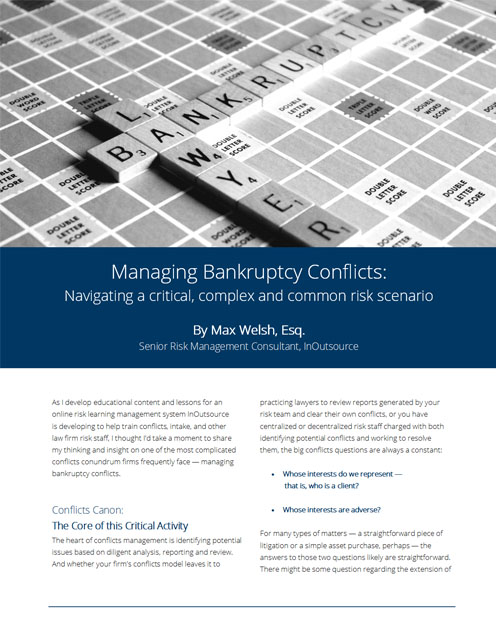 INTERVIEW: Information Governance: Nelson Mullins on the Impact of IG on Your Law Practice
David Worth, CIO of Nelson Mullins shares how he and his firm executed a shift in IT to be more strategic and to put the right assets in place within the firm to more effectively address critical IG challenges facing the firm.
He explores how the role of the CIO and technology leaders has evolved in law firms, the increased interest in information governance, what to expect from an IG solution, and where the sector is headed.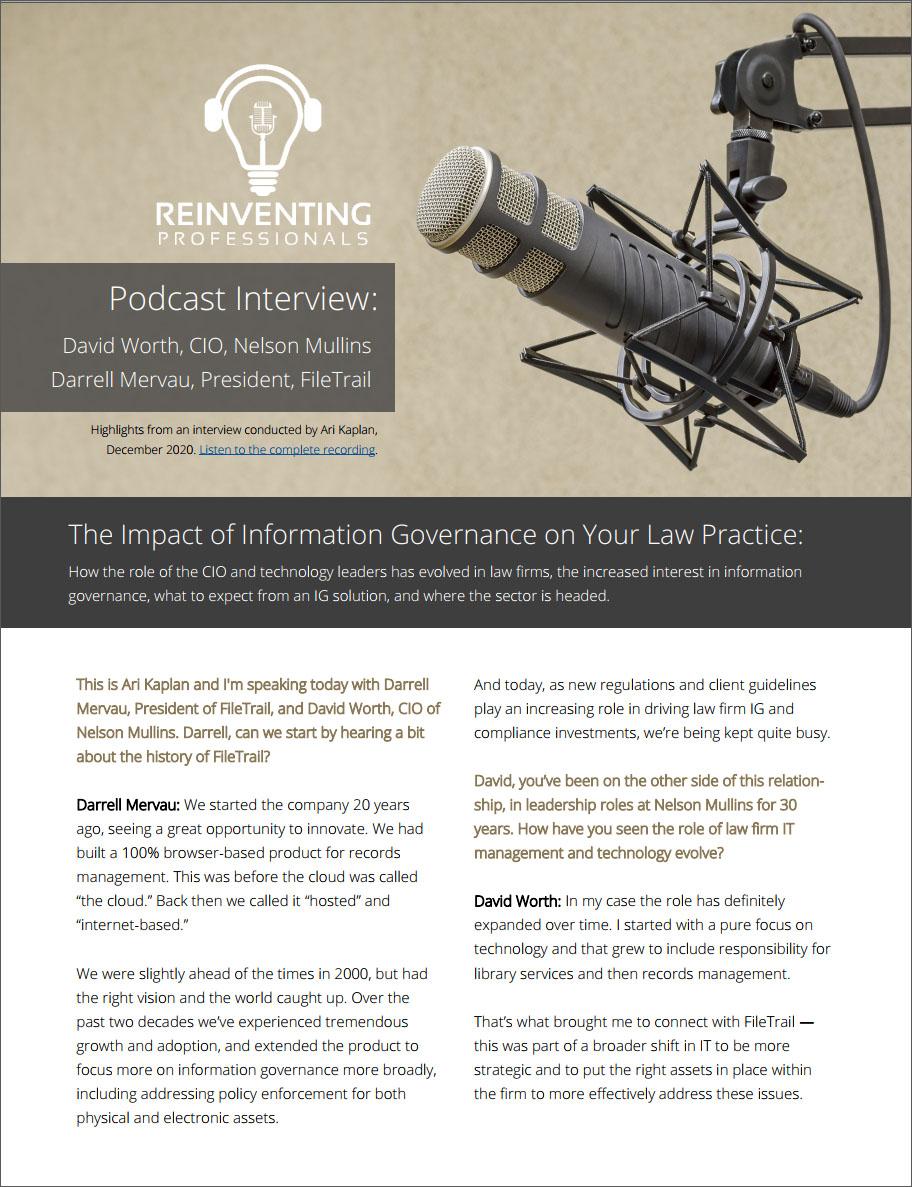 Analytics — News and Resources
RESOURCE: Were Analytics Improvements a 2021 Resolution? Transforming Analytics Insight Into Real-World Solutions
No matter what role you play at firm, making better use of data can present new opportunities to enhance how you serve lawyers and clients.
At InOutsource, we implement insight for our law firm clients, addressing a range of issues.
Working closely with you, our Data and Analytics (DNA) practice offers strategic advisory, expert consulting and tailored solution development services — all focused on enabling firms to most effectively distill their data to make better informed decisions and then put those decisions into practice operationally.
We've put together an updated overview of the services we offer and use cases we frequently address: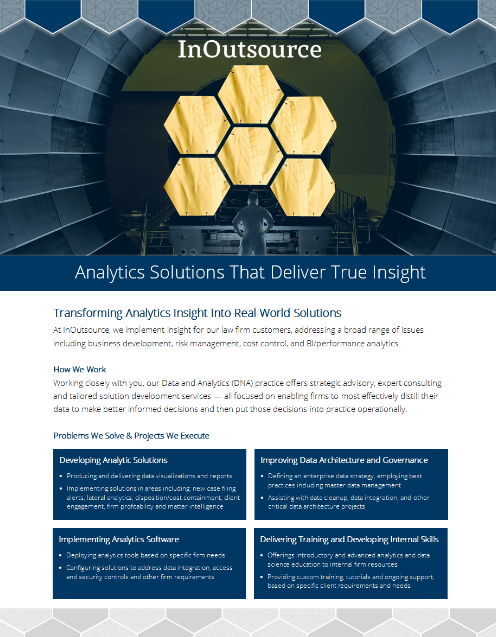 2 MINUTE VIDEO: Better Analytics Drives Better Business Development -- A Fresh Approach to New Case Filing Intelligence
Timely information can provide a critical advantage in pitching for new business and delivering successful outcomes. Armed with timely information about case filings, firms can alert and proactively pitch services to clients and prospects — particularly in those "ahead of service of process" situations where clients aren't even aware that they're subject to new legal action.
A new, innovative solution from InOutsource, built on a modern data analytics platform, enables intelligence-driven business development, creating new opportunities for law firms to win new business.
We've put together a short video highlighting the solution: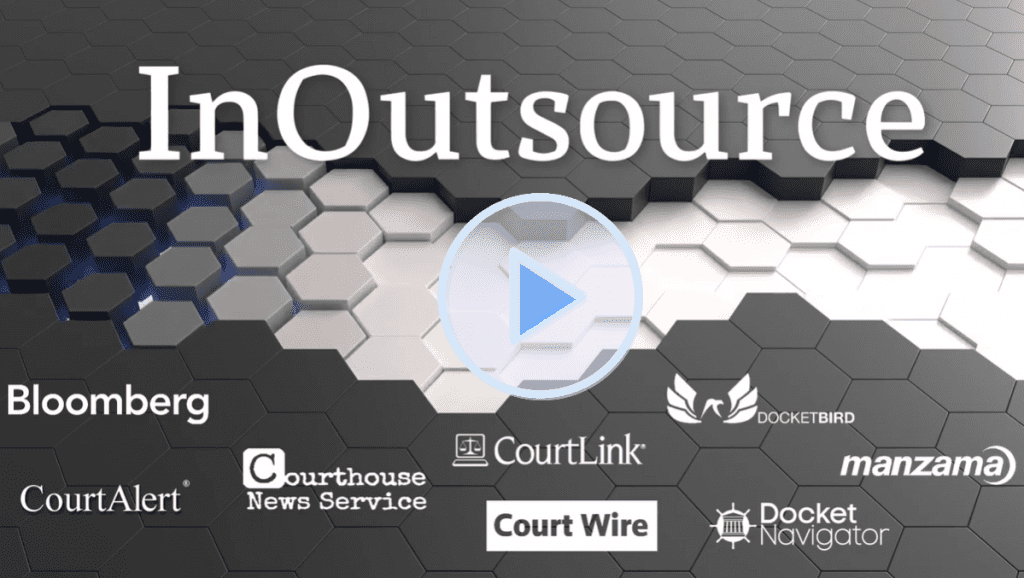 Beeswax (Industry Insight)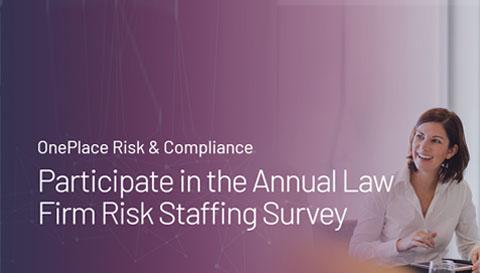 Intapp Launches 2021 Risk Staffing Survey
The annual Risk Staffing Survey explores the ways you and your colleagues conduct various risk-related activities. We've expanded the questions this year to understand how the COVID-19 pandemic changed the ways in which risk teams work.
Participate in this year's survey to share your insights on topics such as:
Conflicts resolution
Client due diligence
Business acceptance operations
Risk research
Client engagement terms management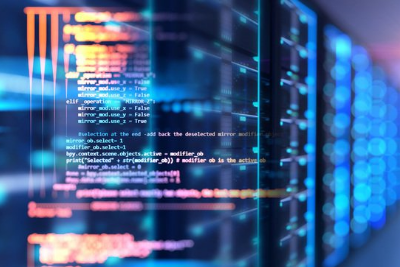 Are You "Data Literate"? (Why You Should Be)
In this article, Lisa M. Mayo, Director of Data Management, Ballard Spahr asserts: "Data literacy is not something organizations can continue to ignore." She shares her insight on this critical topic, offering several practical recommendations and exploring key questions including:
What exactly is data literacy, and what is the business value?
What does Data Literacy mean at Ballard Spahr?
What can you do to improve data literacy at your organization?
READ MORE: "Data Literacy –What is it and Why Should Your Company Care?"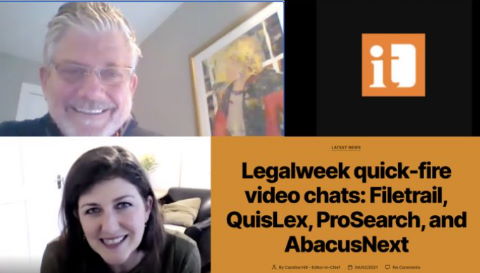 VIDEO: IG Insight in Perspective (Orange Rag)
Caroline Hill, editor of Legal IT Insider (Orange Rag) sits down virtually with FileTrail's Darrell Mervau for a chat. Topics include: IT challenges associated with remote working, digitization, and the importance of retention and disposition in enabling information security and data protection.
They explore about how COVID has impacted the information governance requirements of firms and the flight to Microsoft Teams. Do law firms have a proper strategy, and where are the gaps?
VIDEO (5 MIN): IG Challenges in Perspective
We love to stay connected with our clients and partners. To stay up to date on the latest news and insights from InOutsource, follow us on LinkedIn and Twitter. And subscribe to receive "The Buzz" right in your inbox.
---
Get Another "Buzz" (Subscribe for Updates) :