The Buzz Newsletter (September 2020)
A Note from Nancy

As I connect (virtually) with IT, Risk and other operational leaders and staff across the country, it has become clear that many firms are entering a new phase of re-investment and re-alignment. Law firms are organizing in response to the present "knowns," shifting "unknowns," and a general sense that 2021 will continue to deliver new surprises.
On a positive note, the energy and participation in the recent ILTA>ON conference demonstrated that firms are once again mobilizing resources and budget to invest in innovation, efficiency and risk management.
As you make your own plans, please remember that my team of expert technologists, business analysts and (more important than ever in a remote world) diligent project managers is ready to assist you and your firm in defining and executing technology projects on time and on budget.
The resources below highlight areas where we're seeing strong interest, including: Intapp, IG/Risk Consulting, and Analytics Solutions. If these topics strike a chord, I encourage you to reach out.
With warmest regards,
— Nancy Beauchemin, President and Founder
Intapp — News & Resources
CASE STUDY: Ballard Spahr: Automating Audit Letter Responses with Intapp
Responding to audit letters is a professional requirement for every law firm. When clients get audited, the auditor confers with the client's attorneys for feedback on loss contingencies, including any pending litigation, claims and assessments which might impact the auditor's judgement of the client's financial condition.
The InOutsource team assessed the firm's existing process for responding to audit letters, made recommendations for how it could streamline the process, and then worked to build a automation solution using the firm's existing Intapp workflow software.
INTAPP IN DETAIL: Getting More From Your Intapp Investments: Innovation and Insight from InOutsource
If you're looking to get more out of your Intapp investments, we want to make sure you understand all the areas we can aid and accelerate your efforts. Those are summarized below, but for more detail see the linked web page for more detail and use cases.
Areas we often address include:
New product introduction (Intapp Terms is an area of growing interest and investment)
Custom solution development (e.g. workflows like audit letters or engagement letters)
Upgrades & Integrations (including cloud migrations)
Training (administrator as well as "power user" courses and sessions)
Reporting (efficiency, business insight, productivity metrics and more)
Risk & IG — News and Resources
RISK IN REVIEW: Our Expanding Consulting Services: Ready to Advise, Consult and Execute
Whether you're looking to tackle specific risk projects, or looking for guidance on how peers are navigating today's challenges, we're ready to connect, collaborate and contribute towards your risk insight and efficiency.
We've developed a new resource outlining the broad range of assistance we offer, including:
Risk Policies
Conflicts Practices
RFP & Audit Response
Staffing & Organizations
Data & Information Governance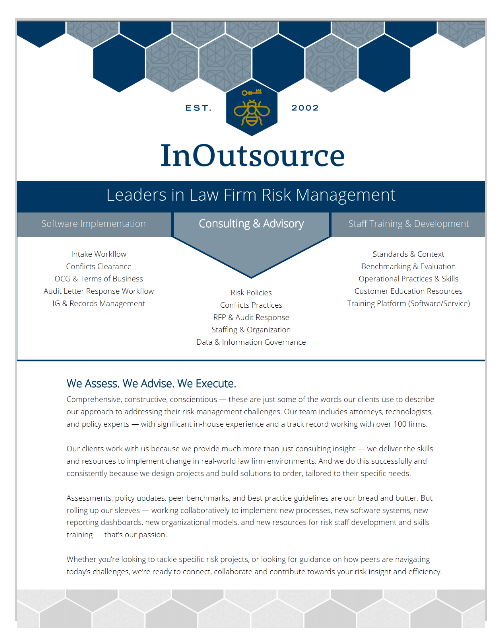 IG IN PRACTICE: Webinar Recording: Information Governance for the Modern Age — Where Vision Meets Execution
IG experts and anyone looking for inspiration do not want to miss this recent webinar, now available oniline.
Christopher Egan (Akin Gump) outlines his vision for modernizing law firm information governance, sharing insights from his firm's journey in adapting policy, process and technology to deliver on that vision.
Alvin Tedjamulia (NetDocuments) shares his perspectives, including how NetDocs is working closely with FileTrail to enable firms to accelerate their own IG journeys.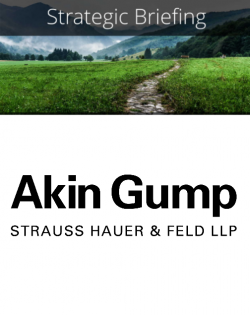 The IG Elephant in the Room: Protecting Your Team and Your Firm in the Age of Covid-19​
In this article, InOutsource President Nancy Beauchemin shares real-world examples of how firms are navigating the evolving technical and business challenges posed by the current crisis.
She also provides insights into how IG and records management teams can prepare for the challenges that lie ahead.
Topics include: staff organization, cost and vendor management, disposition trends, lawyer engagement and more.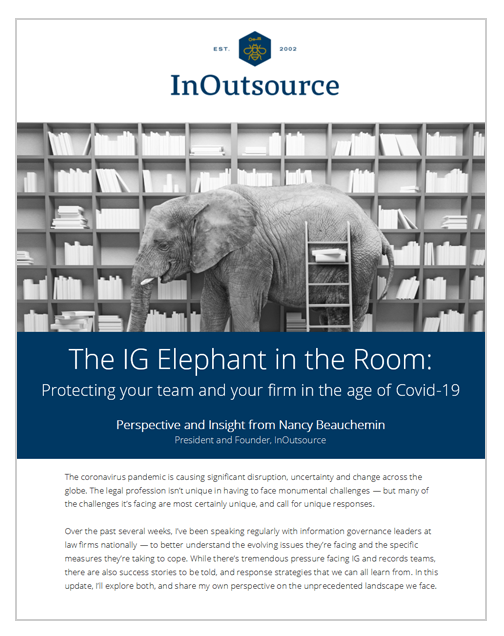 Analytics — News and Resources
FRESH INNOVATION: Latest from DNA Labs: InOutsource BI & Analytics Innovation In Greater Depth
Working closely with clients, our Data and Analytics (DNA) practice often designs and develops tailor made solutions, in many instances pushing technical boundaries and testing limits.
We always welcome opportunities for new exploration and experimentation, treating these efforts as part of an initiative we call "DNA Labs."
The fruits of many of these projects has much broader applicability and potential reach. And now we're proud to share those ideas and opportunities with a broader audience. Let's explore opportunities to implement new levels of insight at your firm.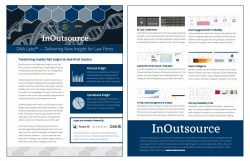 WEBINAR RECORDING: Empower Your Firm to Develop New Business.
A Fresh Approach New Case Filing Intelligence
In these uncertain times, timely information can provide a critical advantage in pitching for new business and delivering successful outcomes. Armed with timely information about case filings, firms can alert and proactively pitch services to clients and prospects — particularly in those "ahead of service of process" situations where clients aren't even aware that they're subject to new legal action.
A new, innovative solution from InOutsource, built on a modern data analytics platform, enables intelligence-driven business development, creating new opportunities for law firms to win new business.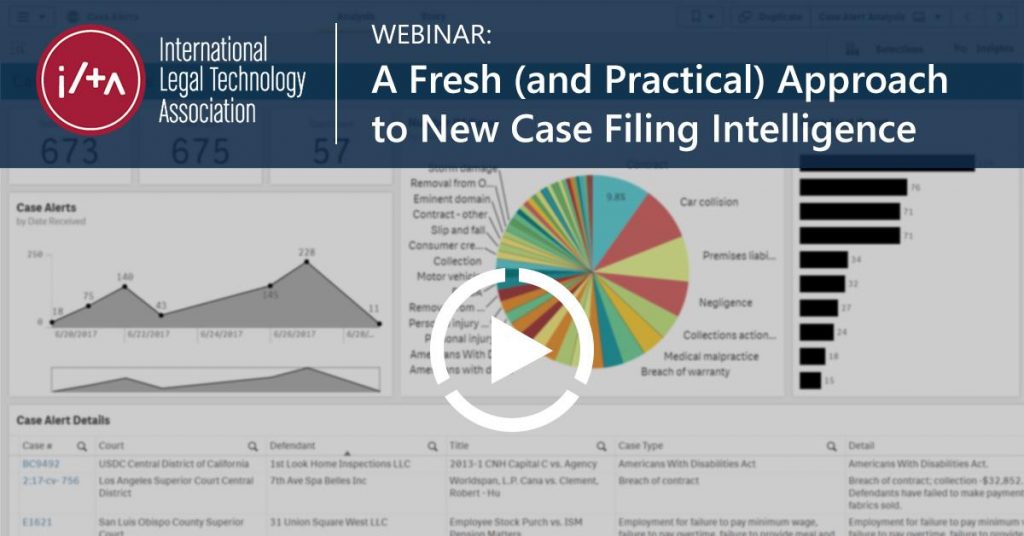 We recently were invited by ILTA to present a webinar on the solution. (It was quite popular.) If you missed it and would like to see the recording, just get in touch: We recently were invited by ILTA to present a webinar on the solution. (It was quite popular.) If you missed it and would like to see the recording, just get in touch:
VIDEO: FileTrail Launches GPS 5.0 Watch Their Two-Minute Overview Video
The newest updates to FileTrail GPS (Governance Policy Suite) are designed to address the IG challenges of remote working, disposition related to cost-cutting and eliminating paper and policy management tied to increasingly stringent client and regulatory compliance requirements.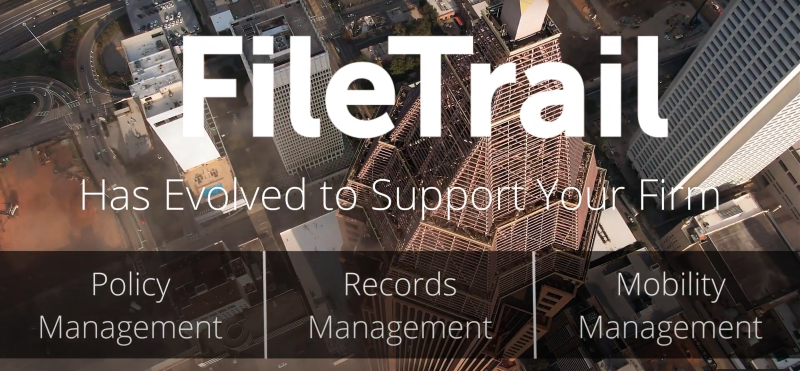 Beeswax (Industry Insight)
ILTA>ON Presentation Summary: WilmerHale Shares Its Audit Letter Automation "Saga" and Success
Wilmer shares how they designed and built an automation solution using their existing Intapp workflow system (notifications, reminders, tracking, and reporting). Doing so has:
Slashed manual and repetitive work
Saved hundreds of hours
Earned significant kudos from lawyers and cheers from paralegals.
Partners called the new solution "magical" and "revolutionary." And the Conflicts team effort on these tasks has been slashed by 85%.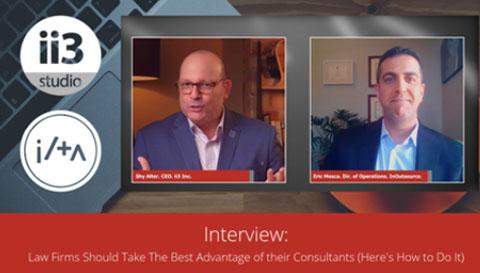 Interview: Eric Mosca on Getting the Most from Your Consultants
Shy Alter from ii3 drafted Eric Mosca to share tips and secrets for how law firms can best leverage those consultants.
Eric shares three best practices that will dramatically increase project chances of success. (And, yes, if you click the link you'll actually see him post-beard.)
READ MORE: "Getting the Most from Your Consultants"
NetDocuments Blog: Information Governance in the More-Agile-Than-Ever Workplace
Everyone is working remotely now…but is our data still safe?"
In the rush to enable all employees to work from home, many organisations took calculated risks, allowing staff to work under less than ideal conditions.
Some businesses were better prepared than others, but the onset of the global pandemic introduced unexpected challenges for nearly every IT department tasked with suddenly providing remote access to formerly office-based employees.
We love to stay connected with our clients and partners. To stay up to date on the latest news and insights from InOutsource, follow us on LinkedIn and Twitter. And subscribe to receive "The Buzz" right in your inbox.
---
Get Another "Buzz" (Subscribe for Updates) :